In Memory
Wally Grossman ** - Class Of 1961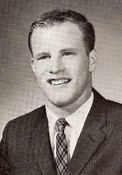 Wally passed away in April of 2009. He was preceeded in death by Cindy some 9 years earlier. He died from cancer but not sure what kind.
He lived in California for a long time. We know of he has at least one daughter about 40 years old that is married and lives in California but we do not know her name or contact information.
A couple of years before he died Wally remarried.