In Memory
Ted Cooper - Class Of 1961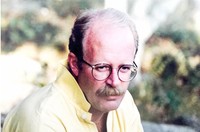 Obituary from Washington Blade
Theodore Arthur Cooper died March 19 of colon cancer at his home in central Virginia according to Luis R. Lugo, his partner of 25 years. Cooper was 72. He was previously the director and owner of Adams Davidson Galleries. Cooper, widely known as "Ted," was born Feb. 20, 1943, in Cleveland, Ohio, to Arthur Erwin Cooper and Shirley Marion Seltzer. He graduated from Muskingum College, now Muskingum University, in New Concord, Ohio, and moved to Washington in the mid-1960s. He soon landed a job as a gallery assistant at Adams Davidson Galleries, which had its showroom on P Street, N.W., in Georgetown. Cooper bought the gallery from its founders and spent the next four decades acquiring and selling premium 19th- and early 20th-century American and European art by leading painters and sculptors. Cooper authored and published about 20 catalogs on American art for exhibitions held at the gallery until the early 1990s. Cooper then became a private dealer and appraiser working from his home in Washington. - See more at: http://www.washingtonblade.com/2015/06/19/ted-cooper-dies-at-72/#sthash.bpiDGR48.dpuf
He met Lugo in 1977 and a decade later they rekindled their friendship. When Cooper closed his showroom and offices in Georgetown in 1993 and began to reconfigure the gallery's direction and scope, Lugo often collaborated with him on various projects including assisting when Cooper, as a visiting lecturer at George Washington University, presented a lecture series on the nuances of valuing art. One of his last appraisals, in late 2012, involved an obscure work by Auguste Renoir that had been missing from the Baltimore Museum of Art before emerging in a disputed ownership claim that eventually restored the work to the museum. - See more at: http://www.washingtonblade.com/2015/06/19/ted-cooper-dies-at-72/#sthash.bpiDGR48.dpuf
During the course of his career, Cooper established strong ties to many local and national public and private galleries and museums, notably the National Gallery of Art in Washington, and developed close bonds with many New York art dealers as well as with countless private collectors in the U.S. and abroad. He was a certified appraiser of the Appraisers Association of America, an accredited senior appraiser and local president of the American Society of Appraisers, a senior member of the International Institute of Valuers, a member of La Confédération International des Négociants en Oeuvres d'Art, a member of the Art Dealers Association of America, and a board member of the Art Dealers Association of Greater Washington from its inception in 1981, which he co-founded with fellow art dealers Jane Haslem, Ramon Osuna and Jack Rasmussen and twice served as its president. He was an early supporter of the Human Rights Campaign.
In 1980, Cooper built a home on a precipice at the Wintergreen resort situated in the Blue Ridge Mountain range in central Virginia, where he lived full-time since 2013. In February 2014, he was diagnosed with cancer and underwent chemotherapy for five months until the cancer was in remission. But by December, the cancer had returned and he was soon in hospice care at his home.
In addition to Lugo, Cooper is survived by two sisters, Leigh Cooper Eastman and Laura Cooper Jordan; a brother-in-law, William C. Jordan; three nieces, Marion E. Eastman, Margaret L. Tuma Nazario and Melissa A. Jordan; a nephew, William A. Jordan; and two grandnieces, all of Ohio.
- See more at: http://www.washingtonblade.com/2015/06/19/ted-cooper-dies-at-72/#sthash.bpiDGR48.dpuf