In Memory
Cindy Chelarin (Grossman) - Class Of 1961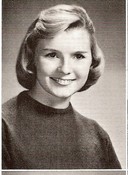 We don't have a lot of information in that both Cindy and Wally are both gone.
Cindy passed away about 10 years ago. She had a brain tumor. She and Wally were living in California. We know for sure that had at least one daughter that would be about 40 years old.
Anyone with contact information about the daughter should let us know.