In Memory
Sherry Guyer (Conybeare) - Class Of 1961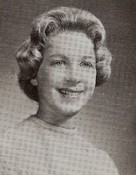 We have NOT been able to confirm this information but it seems like we have found Sherry.
There information we found shows her birthdate as 11/13/1943 and that she graduated from Miami University in 1965. She died on August 24, 2001 in St Joseph, Michigan.
If you have additional information please post it below.