In Memory
Bob Peebles - Class Of 1961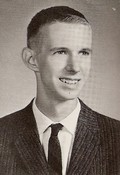 We learned recently that classmate Bob Peebles passed away after a battle with some type of neurological disorder. We know that he has been living around Lake Elsinore Californina and that he has been fighting this medical problem for awhile. If you have additional information (like the obit) please let us know.
The information below was just received from Tracy Henchbarger (Bob's ex-wife). Read below and see if you can help her find Bob's sister in Ohio. Thanks Walt Githens
I was married to Bob on Feb 14, 1975 thru August 1981. I also live in Southern CA and had kept in touch with him through the years. I hadn't been able to get through to him since the Fall of 2011 and after much sleuthing, was told that he entered the ICU at Redlands Community Hospital (Riverside County, CA) in November 2011. I found out today that he passed away sometime in Nov or Dec 2011. I was told there was a family member with him - the only family he had was myself and his estranged sister Jeanne Peebles, RR Class of '63, I believe. My phone number was being transferred to a new cell carrier at the time and was down; and I was in NY with my mother beginning in Nov, until she passed away in December. I am desperately trying to find out any information. I don't know Jeanne's married name, but for some reason I think she continues to live in Ohio. Would someone on your staff be able to help me locate her? My contact information is Tracy Henchbarger, thench@cox.net, 619.417.3477. Thank you so much!