In Memory
Walt Githens - Class Of 1961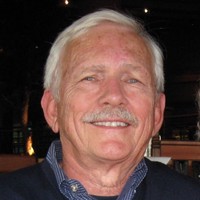 It is with extreme sadness that we learned Walt Githens passed away on January 30, 2018. His family was with him as he lost his four-year battle with stage four prostate cancer. His wife, Sandee, wanted us to know that Walt was strong throughout this time; his strength during treatments protected his family and friends for most of the four years. The family is heartbroken but relieved that he is at peace.
Walt had a special place in his heart for his RRHS friends. As you know, he set up and administered our rockyriver1961.com web site. Walt also made sure that the web site would continue by training several people to take over for him. So we will continue on, remembering that this site would never have existed had it not been for Walt's dedication to enhancing our class's communication options.
The family is planning a visitation on Thursday, February 15, and a service and reception on Friday, February 15, 2018. His obituary will be in the Sunday Des Moines Register. We will include a link to or copy of the obituary here when it is available. You may write remembrances of Walt on the In Memory page and Sandee will be able to read them.
We will miss Walt: his ready smile, his inclusive warm friendship, and his leadership of our class. We feel blessed to have had him in our lives.
Update:
Walter P. Githens II, age 74, died Tuesday, January 30, 2018 of prostate cancer. He died peacefully in his home, surrounded by his loving family.
Walt was born in New Haven, Connecticut, son of Walter P. and Hazel Frank Githens. He graduated from Rocky River High School (Ohio) in 1961. He attended MacMurray College and graduated from Parsons College; earning his MBA at Drake University. During the first blackout of New York City on November 9, 1965 he was united in marriage to Sandra Lind. They have called Des Moines home for the last 52 years.
After graduating from college, Walt began his career with IBM following in his father's footsteps. Driven by an entrepreneurial spirit, Walt and his son Walter successfully built Heritage Payroll Services. His analytical approach to decision making empowered him to expand Heritage into a dominant regional company. When he retired in 2011, Heritage Payroll Services was purchased by a national firm.
Walt was methodical and competitive in business and athletics. Walt enjoyed being active: skiing in Colorado, playing golf and tennis and riding bikes. The Walters are proud three time, father-son swim champs at Echo Valley Country Club and were solid on the tennis court too.
Walt was active in the community, including Plymouth Congregational Church and Rotary Club of Des Moines. He quietly practiced his faith. Walt mentored others and enjoyed providing advice on both personal and business matters. His goal was to improve the status quo. He would amaze others with his knowledge of trivia. Walt was a man of ethics and his word, freely sharing his opinions.
If you had the honor to meet Walt, you weren't likely to forget him. He lived his life out loud; loud being the operative word. He blew his horn at ISU football games and loved setting off fireworks. He had a big smile with an even bigger laugh that filled the room. He was known to show off a variety of wrestling holds and expressed his love by teasing others.
As much as Walt enjoyed having fun and being a successful businessman, family was first. His love and pride of his family was evident. Providing for and protecting his family was his first priority, emotionally and financially. Walt and Sandee raised two children, and enjoyed participating in the lives of their talented and successful grandchildren. Walt's definition of success meant being healthy, self-sufficient and able to distinguish between wants and needs.
Our family is blessed to enjoy each other's company. We go out of our way to celebrate any occasion together. One of our favorite memories is spending a week in St John USVI to celebrate Walt and Sandee's 50th anniversary.
Walt is survived by his wife of 52 years, Sandra, and children, Walter III and Erika (Shawn) Hale; grandchildren Katie (Joshua) Clausman, Walter IV "IV", Emilie, Tiffany, and Gavyn; sister Noreen "Rene" Nutt of St. Louis, MO; uncle Harry (Friedl) Githens of Venice, FL and many extended family members and friends. He was preceded in death by both parents and sister, Wendy.
The family appreciates the exceptional care of the doctors and staff of Mayo Hospital, Medical Oncology and Hematology Associates (MOHA) and Hospice of Central Iowa (HCI). In lieu of flowers, the family requests memorials be sent to Plymouth Congregational Church, Planned Parenthood of the Heartland, Des Moines Rotary Club Foundation, and HCI.
Visitation: Thursday, Feb. 15, 2018, 4:00 PM - 6:00 PM, Dunn's Funeral Home 2121 Grand Ave., Des Moines
Memorial Service: Friday, Feb. 16, 2018, 1:00 PM, Plymouth Congregational Church
http://www.ilesfuneralhomes.com/obituary/Walter-Githens/Des-Moines-Iowa/1778690